CONTEST CLOSED: And the WINNER of the Key to the SOEC is…
Congratulations to Dawn Urban on winning the Key to the SOEC!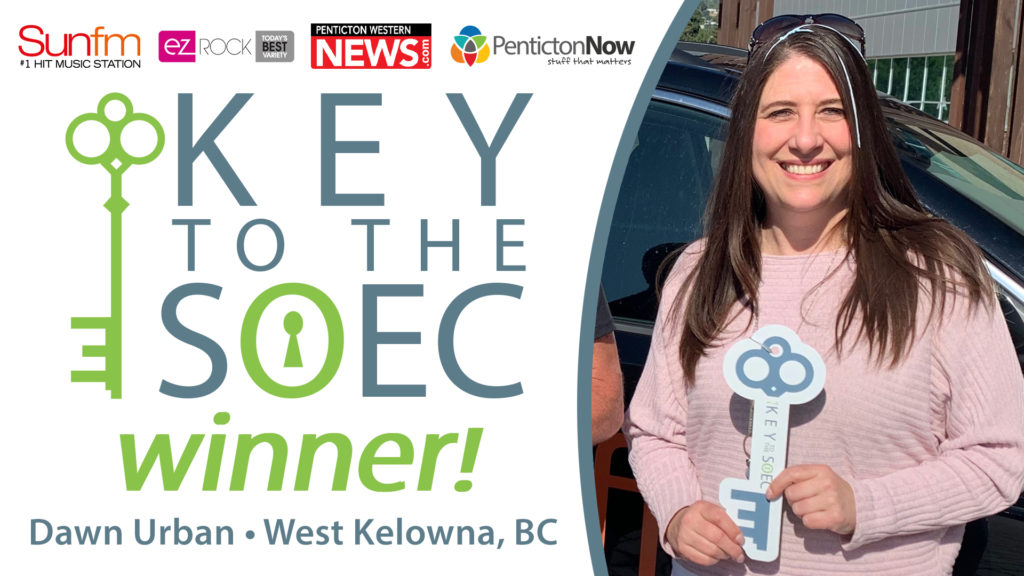 PRESS RELEASE (31.07.2019): The South Okanagan Events Centre (SOEC), in partnership with Sun FM, EZ Rock, Penticton Western News, Kelowna Capital News, PentictonNow & KelownaNow are thrilled to announce Key to the SOEC, the biggest contest the SOEC has ever held, is coming back for the fourth year in a row! This year, it's bigger and better than ever before.
This sweepstakes offers patrons a chance to win two (2) tickets to every ticketed event at the South Okanagan Events Centre for one year. New to this year's prize, is the addition of "dinner before the show", thanks to incredible participating Penticton restaurants. The winner will be treated to dinner before select concerts and special events at supporting locations in Penticton throughout the year. Starting today, Wednesday July 31, patrons are invited to enter for a chance to win the '"Key to the SOEC" online at SOEC.ca or through the South Okanagan Events Centre Facebook Page (www.facebook.com/theSOEC). No purchase necessary.
"The Key to the SOEC is a way to say thank you to our patrons from all over the Okanagan and beyond for their continued support of our building since our start in 2008," said Dean Clarke, General Manager of the SOEC. "Because of their interest and support, we've been fortunate enough to bring in world-class acts and this contest is simply a way to show our appreciation for those fans, year-after-year."
The SOEC first introduced this promotion in 2016 and has continued it annually ever since. Last year's Key to the SOEC winner, Tim Frayne, said his experience surpassed expectations. "It's been amazing. It's always exciting to see an envelope in the mail with brand new tickets. Some of the things I've gone to I never really heard of before, but actually wound up loving the bands", said Frayne. His advice for those thinking of entering the contest? "Everybody should put their name in. it's worth the shot."
The contest begins today, July 31 and closes at 12:00 p.m. PST on Friday, August 23, 2019. Patrons are able to enter the sweepstakes once, with the opportunity for one bonus entry per share on public social media posts. Complete contest rules and regulations are available at SOEC.ca.
Tickets included in the promotion:
Styx with Loverboy – Wednesday, September 4
Ghost with Nothing More – Saturday, September 21
Rock the Rink – Sunday, October 6
Cheech & Chong – Wednesday, October 9
Shinedown with Guests – Tuesday, October 15
Dallas Smith & Dean Brody – Friday, October 25
Rascal Flatts with Aaron Goodvin & Steven Lee Olsen – Wednesday, October 30
The Offspring & Sum 41 with Dinosaur Pile Up – Friday, November 29
Boney M. with Liz Mitchell & Morgan James – Saturday, December 7
We Will Rock You (Queen-Inspired Rock Musical) – Friday, January 3
PAW Patrol Live! The Great Pirate Adventure
And more to come!
Supporting restaurants:
The Vault Bar & Grill
La Casa Ouzeria
Cannery Brewing
Slackwater Brewing
The Station Public House
Barley Mill Brew Pub & Bistro
Match Eatery & Public House
Craft Corner Kitchen
Terms and conditions apply.