Six concessions, a restaurant, and suite service!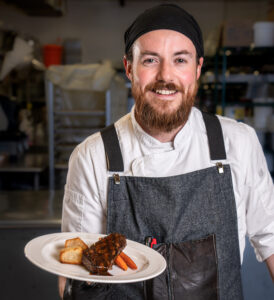 OVG360 Hospitality is the official, in-house, food and beverage service provider. Rooted in the delivery of fresh food and beverage, the team provides exceptional service and tasty eats. Choose from six concessions and a full-service restaurant, the Vault Bar & Grill. At the SOEC, our food and beverage options will complete your entertainment experience. Over 20 vintage wines and dessert creations, will compliment the delicious appies and entrees.
The Vault Bar & Grill
The Vault Bar & Grill, located on the concourse level, offers guests an elegant atmosphere, world-class cuisine, and a broad selection of the Okanagan's finest wines and beverages. Suite and Penticton Toyota Club Seat Membership Program members may feast on a buffet or select from a carefully crafted A La Carte menu.
To make a reservation, please email SOEC-reservations@penticton.ca.
View Vault Menu.
Suite Menus
From 50 feet above, add in-suite food and beverage service to your impeccable site lines. Our favourites, if you're curious, include chicken wings, artisan-style cheese board and our fall-off-the-bone baby back ribs. You can't forget the spinach and artichoke dip and the coconut shrimp.
We're getting hungry thinking about the menu.
Please note: For service in the suites, some items require 24 hour notice.
View Suite Menu.
Concessions
At the SOEC we offer a large selection of concession items during hockey games, concerts, and events. From buttery popcorn and delicious poutine to chicken fingers and yummy chicken wraps! We have specialized menus at Neighbourhood Watch and Beer Boulevard at the North end of the building and general concession items found at the stands on the South end of the building.
Plan for a tasty treat or in-seat dinner at the next event you attend.
View Concession Menu.