Penticton's very own BCHL team
The Penticton Vees are a Junior 'A' Hockey Team that plays in the British Columbia Hockey League (BCHL). As an inaugural franchise, the Penticton Vees have participated in one of the top Junior Hockey leagues in Canada for all 50 seasons of its existence. Impressive right?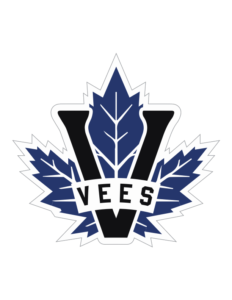 In 2011/2012, the Penticton Vees won their first RBC Cup National Championship in 26 years. Led by head coach Fred Harbinson, during that same season the team set a Canadian Junior Hockey League (CJHL). Under Harbinson's leadership, the team also set a CJHL record, winning 42 consecutive games. The Vees set league records in wins (54) points (110) and winning percentage (.917).
The Penticton Vees grows players to be successful on and off the ice. The organization has developed over 118 players in their history to attend university on scholarships. Notable Penticton Vees alumni include National Hockey League leaders Duncan Keith, Brett Hull, Paul Kariya, Andy Moog, Zac Dalpe, Beau Bennett, Tyson Jost, Dante Fabbro and more!
To learn more about the Penticton Vees, please visit their website, here.
Tickets:

REGULAR SEASON PRICING – 
Adults – $17* each
Seniors (65+ ) – $15* each
Local Children/Students (18 & under) – FREE** courtesy of Peter's Bros Construction

All children/students must enter through Gate 1 (main entrance) of the SOEC.
All children/students must present photo identification (student ID, driver's license, etc.) to receive a game ticket at the Valley First Box Office and to enter the venue on game night.
Children/students in Grade 8 or lower must be accompanied by a parent/guardian throughout the game.

Non-Local Children/Students (18 & under) – $8.00* each*Additional fees apply online.
**Does not apply to premium seating.
*Additional fees apply online and over the phone.
**Does not apply to premium seating.
Tickets are available in-person at the Valley First Box Office (at the SOEC). Tickets are also available for purchase online here*.


(*Additional service fees apply.)

**Groups – Great pricing for groups of 10+ people – contact Amanda Lysohirka 250.493.8337 ext.1. Group sales orders can be processed up to one hour before game time.
Fan Code of Conduct and Prohibited Items List
The South Okanagan Events Centre (SOEC) and the Penticton Vees are committed to providing a safe, comfortable and enjoyable event experience for all fans and event participants. The Fan Code of Conduct and Prohibited List are designed to set clear expectations and create an environment that is enjoyable for all.  We ask all fans to adhere to the Fan Code of Conduct and respect the Prohibited Items List in order to meet these goals.  Our staff will proactively support an environment free from the following behaviours and items:
Fan Code of Conduct:
Fans shall be respectful of players, coaches, officials, arena staff, arena property and every other fan in attendance at the event.
Fans shall refrain from using offensive language, fighting or taunting one another, making obscene gestures, throwing objects, and/or possessing prohibited items.
Fans shall not interfere with anyone else's right and opportunity to enjoy the event.
Fans who consume alcoholic beverages shall do so in a responsible manner.  Fans appearing intoxicated will be denied entry and/or subject to ejection.  ID is required when purchasing, carrying, and consuming alcohol.
Fans shall comply with the direction and instructions of SOEC staff regarding arena operations and emergency response procedures.
Season Ticket Holders/Suite Owners are responsible for their own conduct as well as the conduct of their guests and/or persons occupying their seats or suite.
The SOEC is a Smoke-Free Facility, this includes E-Cigarettes and Vapes.
 Prohibited Items List:
No Outside Food or Beverage
No Professional Cameras
No Audio/Video Recording Devices
No Weapons of Any Kind
No Laser Pointers, Glow Sticks, Flash Bulbs or Fireworks
No Gang Colours, Large Chains or Spikes
No Obscene or Indecent Clothing
No Animals (except for service animals)
No Large Bags or Backpacks
No Skateboards, Scooters, Bikes or Roller Shoes
Fans not adhering to the Fan Code of Conduct and Prohibited Item List may be subject to ejection without refund.
The South Okanagan Events Centre (SOEC) and the Penticton Vees thank you for your commitment to creating a safe and enjoyable experience for all fans.